View search Tools
About Us
A Leader In Lighting
Since 1970, Light Bulb Depot® has been dedicated to delivering the highest quality lighting to our customers. We started with one small family-owned store in Memphis, TN and have grown to fifteen warehouses across the country. Our dedication to quality has remained constant throughout our growth. Our focus on customer satisfaction is what really sets us apart from other lighting companies.
We supply everything from the hard-to-find bulb to the everyday incandescent. Our huge inventory includes numerous types of lamps, ballasts and fixtures. Each of our items are ready to be delivered or set aside for pick-up at any one of our nationwide locations.
Delivery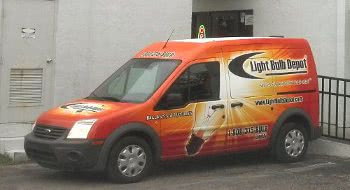 Free Local Delivery to Commercial Accounts
Fleet of Company owned vehicles
Over 250,000 mile service areas
At Light Bulb Depot®, we deliver what you need. Whether it is across town with company-owned trucks or across the nation with fast package or LTL deliveries. You can rest easy knowing that we have some of the best packaging in the industry to ensure safe arrival. You get your supplies the first time quicker than most other places at any one of our nationwide locations.
Brief History
1970 - Memphis, Tennessee Seeing a need for quality wholesale lighting products to the public, we opened our doors in Memphis, Tennessee. By offering free local delivery in Memphis and the surrounding area, we set the standard for customer service for years to come. We've grown from a single location to 15 showrooms and 13,000+ in stock items across the country. We encourage you to visit us or contact one of our lighting professionals to see what has made us The Best in the Business.
1976 - Jefferson, Louisiana To handle the New Orleans area as well as an increasing need to supply the coastal markets with quality lighting products at a discounted price, we moved into town. Our New Orleans location currently supplies the entire state of Louisiana as well as the Gulf Shores resorts. One of the largest inventories of marine lamps can be found here as well as the brightest, most colorful bulbs for the yearly Mardi-Gras festival. Like the famous Mardi-Gras, we are here every year to supply customers in the marine industry, the entertainment community, as well as all local businesses.
1980 - Irving, Texas Welcome to the Lone Star State! We strive to keep customers supplied with bulbs, lamps and replacement ballasts for signs, for building maintenance crews and contractors. We carry a large inventory of sign related products including hard to find Metal Halide lamps, Ballasts and Compact Fluorescents. We also carry neon parts at a competitive price.The Metroplex has never been brighter.
1985 - Jacksonville, Florida To handle the increasing demand for our products, we expanded to supply Florida, the Keys, and offshore Islands with our products. Since opening, we have constantly maintained our quality with low prices to help our customers and businesses save money. We supply marine lamps, fluorescent lighting, miniatures and industrial fixtures to major contractors in Jacksonville as well as the entire state of Florida.
1986 - Birmingham, Alabama We can now supply the entire state of Alabama with our products faster than ever. We have now introduced custom painting of light bulbs. We carry a complete line of colored lamps, colored Fluorescent tubes and colored sleeves in all sizes. Fluorescent fixtures and ballasts are always a stocked item so you can have them NOW and not have to order from a warehouse weeks away. Let us be YOUR warehouse for just in time inventory on all lighting products.
1988 - Nashville, Tennessee We are now better able to serve Tennessee and Southern Kentucky. Nashville is Music City and an entertainment mecca. We are proud to play our part by supplying lighting products to all facets of the entertainment industry. We provide savings to local municipalities by offering longer life bulbs at contract prices. Maintenance crews can find everything they need to keep Hospitals, Honky-Tonks and Recording Studios open all night long.
1989 - Charlotte, North Carolina We moved into the Queen City! Customers in the Carolinas were asking for a location so they could save money by shopping with a leading lighting supplier. With the addition of Safe-Shield Products, our inventories have increased even further. We provide USDA approved lamps to schools, markets, and other sectors where safety from broken glass is a concern. We are able to coat most incandescent, HID as well as Fluorescent lamps in our own facility.
1994 - Houston, Texas Space, space, and more space. That is what we needed as we saw an increasing need in Texas. We serve the Houston area all the way down to Galveston Bay with local delivery available for all your lighting needs. Stocking everything from HIDs, Fluorescent, Incandescents including miniatures and Marine lamps, we have something for every industry in the Gulf Region.. Maintenance personnel, contractors and electricians in Houston have found we can save them money on almost every item and we have it in stock.
1995 - Atlanta, Georgia To bridge the gap between Tennessee and Florida, we found a home in the Gate City. Atlanta is known for hot days and even hotter nights. We keep those nights bright with High Pressure Sodium and Metal Halide lamps and a growing inventory of LEDs. We also stock the fixtures that go with the lamps including Sports Lighters, Wall Packs, High & Low Bay Lighting and Flood Lights to name a few. If you need to service an existing fixture, our inventories of ballasts, sockets and photocells can't be beat.
1998 - San Antonio, Texas Another location for the great state of Texas. With the opening of our location in San Antonio, we can now cover the state with low prices and quality products from one of the largest lighting showrooms in the state. The Alamo is known as the pride of Texas and we take pride in giving our customers our absolute best. We carry all sizes of Fluorescent tubes in all wattages including the 108, 117 and 120 lengths. We can supply your business with everything you need in lighting.
2009 - Austin, Texas As the seat of government, home to many Fortune 500 companies, and a variety of music festivals, Austin has something for everyone. Now they have a lighting supplier to meet all of their diverse needs. Whether you need lighting products for a state of the art production facility or a dive bar down on Sixth Street, we have the products you need to make it happen.
2009 Tampa, Florida The demands for our products throughout the Sun Coast and Central Florida were too great. Stocking full inventories of Low Pressure Sodium and Coated Fluorescent lamps, we provide our customers on the Gulf Coast Keys with the products they need to protect the local sea life. As the winter home to many major and minor league baseball teams, we maintain stock of all types of HID lamps, ballasts and fixtures to ensure that America's Favorite Pastime can be enjoyed anytime. All of this on top of first in class customer service and industry leading inventory.
2016 Knoxville, Tennessee As the newest member of the LBD family, we are excited to bring the company's rich history of exceptional personalized customer care and deep technical expertise to our friends in the greater Knoxville and East Tennessee area. Our knowledgeable staff is eager to guide you around our beautiful new show room and answer any questions you might have regarding the latest LED products or traditional lighting technology. We are conveniently located about ten minutes from both downtown and Turkey Creek, between I-40 and Kingston Pike, and our free delivery service extends all the way out to our friends in the Sevierville / Pigeon Forge area. First and foremost, we want to be good neighbors, so no matter the size of your business, we want to shake your hand and help you discover lighting solutions that save time, money, and provide you with peace of mind.