Item: 21231A
Brand Name:

Description:
DL-3W-150-120V CLEAR 13 (D)
Watts: 2.1/FT
Volts: 120
Avg. Life Hours: 10000
CEE: No
Enclosed Rated: No
Shipping:

UPS Ground
Available:
10,610
21231A Clear D DL-3W-150-120V CLEAR 13 (D)
Add Info:
ALL ROPE LIGHT IS PRICED BY THE FOOT, HOWEVER, MUST PURCHASE IN INCREMENTS DESIGNATED IN THE ADDITIONAL INFO SECTION. ROPE LIGHT ONLY, ACCESSORIES SOLD SEPARATELY. NON-RETURNABLE ITEM. CUT AT AUTHORIZED LENGTHS ONLY. WHEN ROPE LIGHT IS CUT OR MODIFIED IN ANY WAY, THE UL SAFETY LISTING IS NULL AND VOID. THIS PRODUCT IS ONLY TO BE INSTALLED BY A LICENSED ELECTRICIAN.
Finish:
Clear
Cross Reference
Case Height: 12.25
Case Height: 12.25
Case Width: 12.13
Case Width: 12.13
Case Length: 10.75
Case Length: 10.75
Case Weight: 20.75
Case Weight: 20.75
2 Accessory Items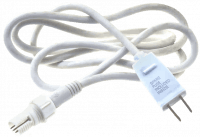 Item Number:
21245B
Industry Desc.:
DL3-POWER-13MM POWER CORD
62 in. Power Cord for 3 wire Rope Light
Bulb Shape:
13mm Rope Light
Package Qty:
10
Case Qty:
100