View search Tools
For over 48 Years we have been your source for Lighting!
A Leader In Lighting

Since 1970, Light Bulb Depot has been dedicated to delivering the highest quality lighting to our customers. We started with one small family-owned store in Memphis, TN and have grown to fifteen warehouses across the country. Our dedication to quality has remained constant throughout our growth. Our focus on customer satisfaction is what really sets us apart from other lighting companies.
We supply everything from the hard-to-find bulb to the everyday incandescent. Our huge inventory includes numerous types of lamps, ballasts and fixtures. Each of our items are ready to be delivered or set aside for pick-up at any one of our nationwide locations.
Delivery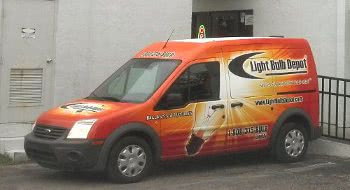 Free Local Delivery to Commercial Accounts
Fleet of Company owned vehicles
Over 250,000 mile service areas
At Light Bulb Depot we deliver what you need. Whether it is across town with company-owned trucks or across the nation with fast package or LTL deliveries. You can rest easy knowing that we have some of the best packaging in the industry to ensure safe arrival. You get your supplies the first time quicker than most other places at any one of our nationwide locations.